Leaving Taroudant we decided to go 179 Km to Tafraoute, a town which was recommended by a couple we had met on the road yesterday.
The drive there is all on the paved road, though still with amazing views and no traffic.
We took a small detour into one of the villages to see what there was to see….not much. These people have nothing. They have wells for water and they have electricity, but there are no services at all.
From here the road continued to wind thru the hills.
Tafraoute is a nice Berber town and there are few tourists. This was market day so many people from surrounding towns were here shopping.
The first restaurant we found in town actually had some of the best food we have had so far.
The local dress for the women is western clothes, but over top the wear a black sari like dress with elaborate embroidered hems.

We found a very nice and very cheap hotel off the main square.
Still headed south we made for Itch in 111 KM. This was initially on the paved 1 lane R 107. It looks a lot like Sedona here.
We took a detour on the " track to the painted rocks" to see said rocks. Belgian artist Jean Verame, painted giant rocks in 1984 in glowing blue colours. They say he used 18 tons of blue colour.
The paved road continues south from Tafraoute thru the rock formations.
From about 20 km out of town the 107 becomes a very good dirt road.
You go thru several canyons and then slowly climb up in to the hills.
The down is a very steep road with hairpin corners and switchbacks.
This drops you in the valley where there is an Oasis.
Then you drive along the valley floor, which luckily for us was a very well maintained road thru the riverbed. Also luckily all the river crossings were concreted and the rocks pushed off the roadway.
As we rose above the riverbed suddenly in front of you was 2 lanes of paved road.
From here this took us south across the desert to Icth, which is another Oasis.
The town is very clean and the locals excited to see us and waved and said "Bon Jour".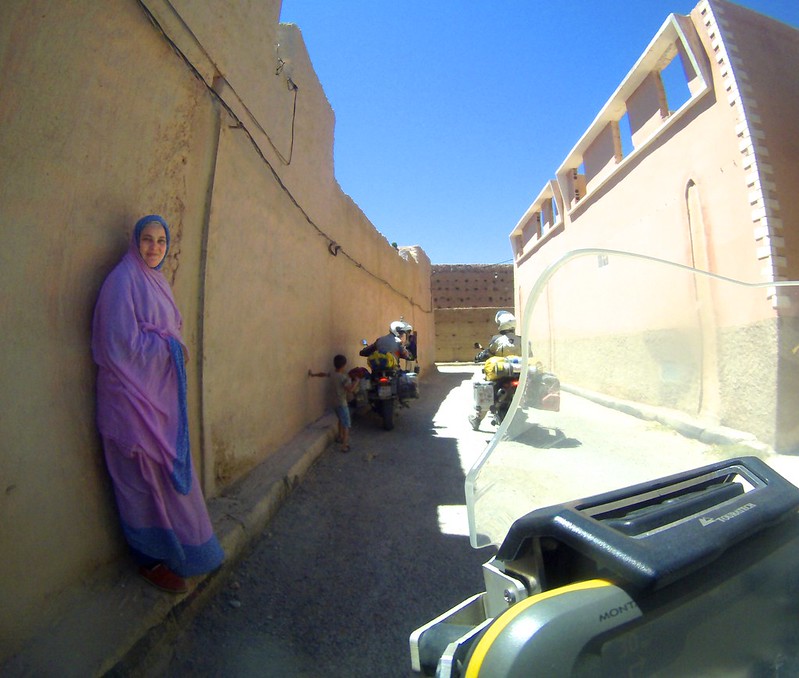 After a loop thru the town we headed to the nearby oasis for some Berber camping.