The big event for today is the famous DEATH road or Yungas road of Bolivia. This is a 69 km road to Coroico from the RN 3 about 56 km from La Paz. Leaving La Paz the RN 3 ascends to 4650 m (15,260 ft) at la Cumbre Pass and then descends to 1200 m (3,900 ft) at Coroico.
The road is largely 1 lane (3.2 m or 10 ft wide) with few guardrails and cliffs up t 600 m or 2000 ft. The downhill driver must stay to the left to get a better view. There is little uphill traffic now unlike in the past when the road earned its name. The most dangerous thing on the road now is the mountain bikers. About 1 a year has died since 1998.
You enter the death road off of the RN 3 and head down hill all the way.
There are some cool waterfalls that you drive thru.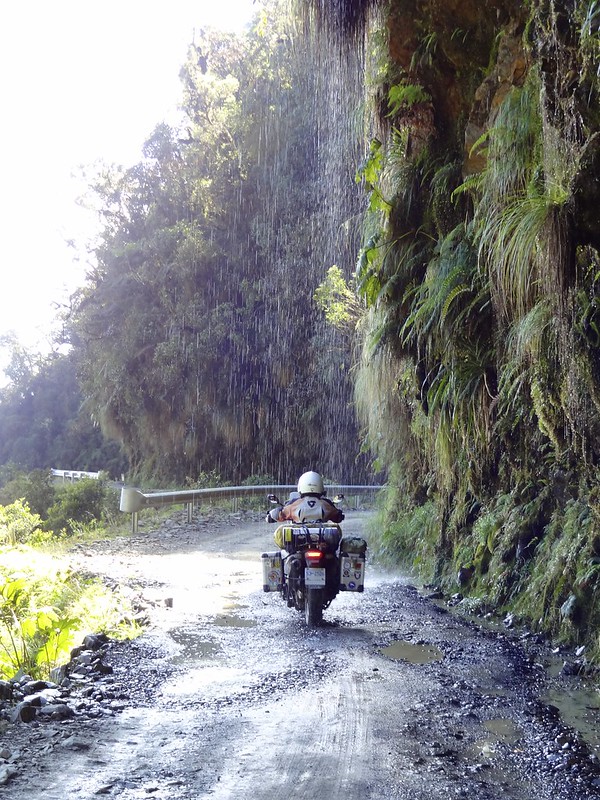 We met another couple from BC on their way up. They had started early and were almost at the top or otherwise they would be constantly running into mountain bikers taking over the road.
You have to pay a tourist tax at the bottom of the road, but this fee does supposedly pay for road maintenance, signs, and ambulance service. It is 25 Bolivianos each.
Then there is about another 20 km of dirt and water crossings to join back to the asphalt to head back the 100 km to La Paz.