Today's optimistic plan is to get 97 km to Songrino and then try to get to Tosontsengel village in another 87 km.
We cooked up some instant oatmeal and coffee and hit the road at 9. It was 5 km back to the end of the paved road where we aired down the tires.
The road is WASHBOARD to start and one main track before it branches out.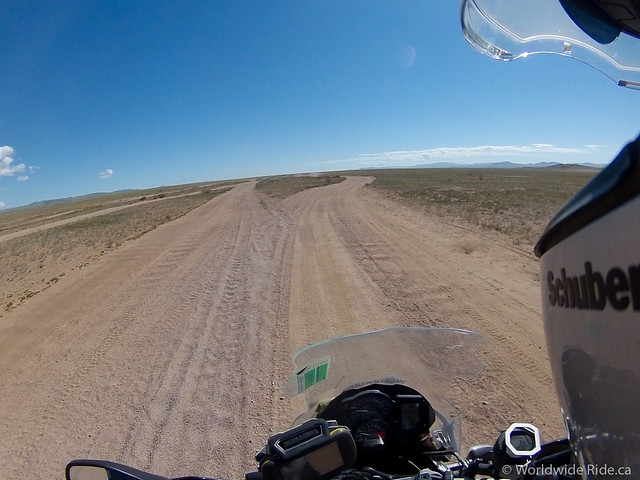 We had some fun chasing these camels around.
It goes from a skiff of sand to several inches. When the sand got deep we again resorted to the grass. This means we all got a bit spread out even though we are all going in the same general direction by the GPS.
The car and truck drivers here all wave and smile! We managed to get to Songrino by 1 pm and found a cafe for some lunch.
Goat Buzz
The road after lunch was more of the same with sections of deep sand and several bikes had naps. (Not Dan). We came across a few herds of Yaks.
Dan and Sara decided to go up and over the hill on the grass off to the right as that was the way the road went eventually and The other guys went left along the road.
When we got to the fork in the road by Tudevtei and met Wolfgang, but we had no sign of Trevor and Orvar who had been ahead. The routing for Wolle's GPS is the same as the other guys and not ours and so we think they may have gone left at the fork into Tudevtei instead of right on the main track.
We confirmed this with a group in a car stopped there who were changing their tire as they had seen them. This means they went into the town, but will they realize the mistake and come out the same way or take the other road out the back side that eventually meets the correct track. HMMM. Wolle decided to wait 30 min there and we went ahead to see if they were at the next intersection. It is also getting very late and there is much more sand. We had 34 km to go to the next village of Numrug (for a total 0f 188 km) and it is already almost 4. This took almost 2 hours and we 3 all arrived a bit shattered.
I was into the village first and stopped at the first "hotel"…NOPE. At the other end of town there was a cleaner place and the manager spoke some English. We managed to get on line there with the SIMs and saw Orvar's SPOT was just 20 km away. They had come out of the village and gone back 50 km to get cell reception at the lunch place and to check our SPOT. They were not thinking clearly, but were worried we were in trouble. They arrived to town and like Wolle and Sara; Orvar had had a crash in the deep sand. Both Sara and Orvar were a bit battered and sore but no permanent damage.
The rooms are simple with wood beds and we slept in our sleeping bags. There is no running water (no shower & squat outhouse). The owner did boil us up some water to clean up a bit. They had cold beers and also let us use their kitchen to cook a pasta dinner. There was a lot of noise in the town with dogs barking, motorbikes cruising up and down, People checking in late and then knocking at the front door to check for rooms at all hours.
None of us got much sleep. We took over the kitchen again to make coffee and oatmeal and then set out for our destination of yesterday in 107 km. We did not know how much farther than that we would get, but we had been told the road was "paved after Tosontsengel". Its 107 km how long could that possibly take???…… Well the sky looks ominous for sure.
We headed out of town and initially the road was quite firm with a skiff of sand….until it was deep!!
Then of course it started raining and then pouring. The track was wet washboard at times, there were patches of deep sand and we spent some time going cross country on the grass (which was not slippery at all), thru the bushes and up some steep hill climbs.
There was some muddy sections to deal with after the first 3 hours of rain and it was back to the left and on the grass for us.
Unfortunately the other guys were in the far right and very muddy track and both Orvar and Wolle had their bikes down. Orvar hit his head hard enough to scar the helmet, bend the handle bars, and the brake lever and Wolle to break the left crash bar.
We are now only 8 km for the town and there is one more steep muddy hill to climb. I was never so happy to see a constructed road bed when we reached the summit. It was then an easy 5 km down to the town.
We gassed up and asked for a place to eat near by while we waited for the other 3. Well now we know it takes 4 hours  to go 107 km off road in Mongolia when its raining. We used our handy Point it book to get exactly what we wanted and the owner was so pleased. Baaah soup, rice and  coffee.
We are all a bit wrecked and at lunch decide to see what the "best hotel" in town has to offer.
It is 3 pm and 354 km to the next real town Tsetserleg with services (like a shower). The internet says this takes 6 hours. The hotel is not too bad ( our standards have slipped). They actually have a shared bathroom with a flush toilet and a separate room with a hot shower! We are happy after no shower for 3 days. The rooms are clean and comfortable.
The town is not much to speak of, but we did the rounds. They had a big screen and so we re-watched the last Game of Thrones. What ever Sara ate at dinner did not agree about an hour later and she had a very long uncomfortable night.